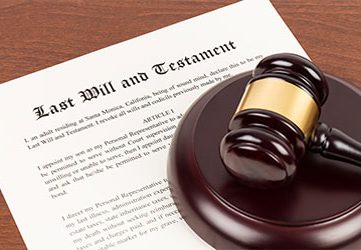 New Jersey Trust and Estate Litigation Lawyers Attorneys
New Jersey Trust and Estate Litigation Lawyers
Our attorneys have significant experience handling estate, trust, and fiduciary litigation. We represent clients in connection with enforcing or contesting a wide variety of estate planning documents, including:
Probate of wills

Will construction issues

Validity of trust documents

Contested accountings for both estates and trusts

Proceedings for the discovery and turnover of an estate or trust assets

Other trusts and estate-related matters.
CONTESTED WILLS
If a beneficiary in a will who expected a large bequest and got a much smaller one (or nothing at all), or a bequest was made to a formerly unknown heir, a contested will litigation can arise.
There are several common grounds we see for contesting a will. Those grounds include:
Undue influence
Coercion
Forgery
Fraud
Lack of testamentary capacity
In order to contest a will, the person who wants to contest the will must have standing. That means that the person must already be a named beneficiary in the will. People who would have received a bequest if the deceased had died without a will ("heirs at law") also have standing.
Lastly, a person who was named in a prior will, but who is not named in the will submitted to probate, or who received a smaller bequest in the probated will, has standing to contest the will.

BREACH OF FIDUCIARY DUTY
A fiduciary is a person or entity (such as a bank) that has a special relationship of trust with another person. In estate planning, the executor of a will is a fiduciary to the named beneficiaries of the will. In a trust, the trustee is a fiduciary to the beneficiaries named in the trust agreement.
Other examples of a fiduciary would be a person who was named in a will as a guardian to a minor or an agent named in a power of attorney.
There are several actions that a fiduciary could take that could be deemed a breach of their fiduciary duty:
Embezzlement of the trust's assets by the trustee or of the probate estate by the executor or administrator
Failure of the trustee to follow the terms of the trust agreement
Failure of the executor to follow the deceased's instructions in the will
Removal of assets from the trust without the knowledge or approval of the beneficiaries
If you need an experienced New Jersey estate litigation lawyer, call Schiller, Pittinger & Galvin, P. C., in our Scotch Plains office at 908-490-0444 on
contact us online
to set up a consultation.