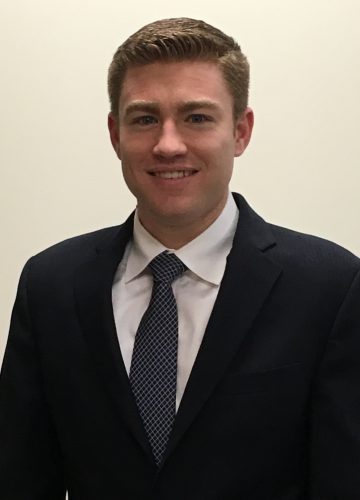 phone: (908) 490-0444 ext. 290
Kieran M. Dowling
Kieran joined Schiller Pittenger & Galvin, P.C., after working for two prominent litigation defense firms. His practice covers an array of areas. He has represented clients in the Supreme Court of the State of New York and Superior Court of New Jersey in complex litigation business lawsuits involving breach of contract, shareholder disputes, construction defects, real estate disputes and collection actions.
He brings experience serving as insurance defense counsel and acts as the direct point of contact for businesses, especially automobile dealerships, on general liability matters. Kieran defends against claims of negligence, breach of contract, fraud, the New Jersey Consumer Fraud Act, and the Truth-in-Consumer Contract, Warranty and Notice Act. 
He also represents motorists in municipal traffic court matters.  
In addition to his defense practice, Kieran maintains a robust practice pursuing claims on behalf of those who have been wronged. He handles cases involving public employees and violations of their constitutional rights. He has litigated whistleblower claims as well as claims of discrimination from their inception to a monetary recovery for the client. 
He represents and has obtained recoveries for police officers, firefighters and administrators. He also represents homeowners and consumers against predatory contractors.  He has served as a special counsel for a New Jersey municipality investigating possible illegal activity by municipal employees. 
Kieran negotiates cases to their resolution and has mediated dozens of cases with National Arbitration and Mediation (NAM) and Judicial Arbitration and Mediation Services (JAMS), as well as private mediators. You'll most often find Kieran in court, appearing before judges in Essex, Middlesex, Bergen, Passaic, and Union County, as well as various municipal courts.  
He has first and second chaired civil trials, tried hearings before the New Jersey Division of Consumer Affairs, and is working toward obtaining the designation of Certified Civil Trial Attorney. 
He is well-versed in appellate practice and has argued on multiple occasions before the New York Appellate Division, Second Judicial Department.
Kieran served as a law clerk for Judge Margaret Mary McVeigh, the former Presiding Judge of the Chancery Division in Passaic County. During law school, he interned for Judge Susan D. Wigenton in the U.S. District Court for the District of New Jersey and for the U.S. Equal Employment Opportunity Commission. 
Kieran graduated with Honors from Loyola University Maryland, where he captained the Men's Division 1 Cross Country program. He earned his law degree from Seton Hall University School of Law. 
Kieran is an active member of Loyola University Maryland's Alumni Association and mentors dozens of Loyola students beginning their career paths as lawyers.  Kieran is a committed member to the Friendly Sons of St. Patrick of Union County, New Jersey and in 2019 served on its Board of Officers.  
In his spare time, Kieran enjoys golfing, skiing, attending Yankees games, and participating in the Wounded Warrior Project's Tough Mudder Races.
Notable publications:
Aurora Loan Servs., LLC v. Gross, 32 N.Y.S.3d 249 (App. Div. 2016)
FBP 250, LLC v. Wells Fargo Bank, Nat'l Ass'n, 85 N.Y.S.3d 177 (App. Div. 2018)