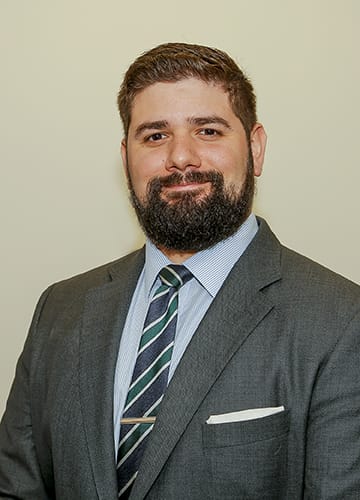 phone: (908) 490-0444 ext. 248
Joseph B. Fuirita
Joseph B. Fuirita has a history with Schiller, Pittenger & Galvin. He joined the firm as a Summer Associate in 2014, staying on as a clerk throughout the rest of his time in law school and gaining valuable experience in meeting the diverse needs of the firm's clients. 
While in Seton Hall Law, Joe served as an Intern to Appellate Division Judge Ellen L. Koblitz and was a member of the Seton Hall Circuit Review Journal. Following his graduation from Seton Hall in 2015, he served as a Law Clerk to Judge Margaret Mary McVeigh, the presiding Chancery Division Judge in Passaic County.  He assisted Judge McVeigh in cases involving corporate governance and dissolution, foreclosure and banking law, as well as probate and estate matters. 
After his clerkship, Joe began his career as an associate in the general litigation department of a large regional law firm, before returning to the Schiller, Pittenger & Galvin in 2017. His current practice areas in the firm include:
Auto Dealership Law
Banking & Financial Services Law
Business Law
Creditors Rights
Wills & Estate Planning
New Jersey Auto Dealer Attorney
Joe is a transactional attorney who provides his clients with varied services. He assists the firm's clients with the purchase and sale of automobile franchises, retail finance agreements, floor plan financing agreements, real estate and lease agreements and vendor contracts.
New Jersey Estate Planning Attorney
Joe has developed a thriving practice in estate planning. He drafts wills, powers of attorneys and advance healthcare directives for his clients. His estate planning skills, going back to his clerkship in the Chancery Division, enable him to fulfill his clients' wishes as to the future wellbeing of their family members.
Joe graduated from Johns Hopkins University in 2010. Prior to attending law school, Joe served as a Teach for America volunteer, teaching kindergarten for two years in a Newark charter school. He was recognized for his teaching as the recipient of Seton Hall Law's prestigious Teach for America Scholarship.
During law school, he was also recognized by the New Jersey State Assembly for his volunteer work in the Southern District of New York representing indigent clients in discrimination cases that were to be mediated or arbitrated in the Southern District system.