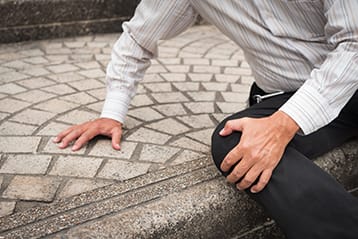 Slip and Fall and Falldown Accident Attorneys
Slip and Fall and Falldown Accidents
Slip and fall and falldown accidents are some of the most common personal injury claims. Property owners in New Jersey are under a duty to exercise reasonable care to make their property or premises safe for others. When a responsible person fails to remove or warn of a dangerous condition on property, resulting in a fall with injuries, you may be entitled to substantial compensation. Typical slip and fall or falldown accidents involve ice and snow, sidewalk defects or lack of maintenance, parking lot pot holes, wet floors, and debris left on floors.
If you have been injured in a slip and fall or falldown accident on another's property, you may be entitled to damages for bodily injury, pain and suffering, disability, loss of enjoyment of life, lost wages, mental distress, and unpaid medical bills.
Contact Schiller, Pittenger & Galvin, P.C. for a free consultation with an attorney. There is no attorney's fee charged to you unless we are successful in obtaining a recovery on your behalf.