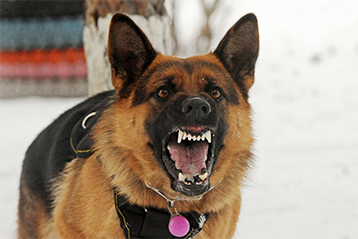 Dog Bites
Dog bites commonly cause serious trauma to a victim, including pain and suffering, lacerations, disfigurement, scarring and emotional distress. These injuries can be particularly devastating in the case of a child. They often require surgical procedures or other medical treatment, resulting in many cases in extensive medical bills .
The New Jersey Dog Bite Law does not require negligence by the owner or prior viciousness of a dog for the victim to be entitled to compensation for injuries caused by a dog bite. New Jersey has a strict liability law that a dog owner is responsible when his or her dog bites someone, as long as the injured person is on public property or lawfully on his own or another's private property (including the dog owner's property) when the bite occurs.
When someone is attacked by a dog, without being bitten, that person may also be entitled to compensation from the attack by establishing that the incident resulted from the owner's negligence. An attack may cause injuries just as serious as, or greater than, a dog bite.
If you have been the victim of a dog bite or attack, contact Schiller, Pittenger & Galvin, P.C. for a free consultation with an attorney. There is no attorney's fee charged to you unless we are successful in obtaining a recovery on your behalf.