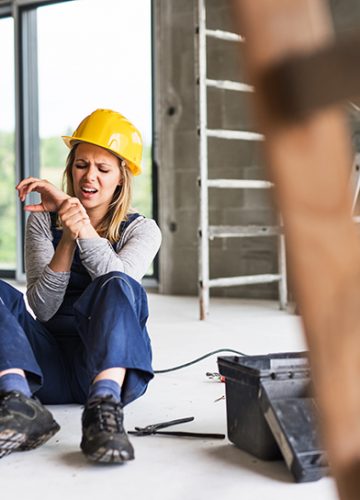 New Jersey Construction Site Accidents Attorneys
New Jersey construction site accidents often result in devastating and permanent injuries to workers or persons at the site. Injuries sustained by a victim of a construction site accident may entitle the injured worker to compensation. For instance, if the owner or general contractor did not exercise reasonable care or comply with safety regulations, the injured worker may have a cause of action against them. 
There are many ways workers and visitors can be seriously injured at a construction site. Some of those construction site accidents include:
Falls off ladders and scaffolding
Injuries from scaffolding collapses
Forklift accidents
Falling objects such as tools, bricks, lumber, etc.

 

Defective equipment/machinery
Exposure to toxic substances
What Can an Experienced Construction Site Accident Attorney Do for You?
Construction site accidents routinely involve complex issues, investigation and litigation. For instance, on a large construction site there may be carpenters, electricians, bricklayers, steel workers and plumbers. Construction site accidents can (and do) occur in the blink of an eye. 
Was the accident caused by the negligence of the property owner, the general contractor, a sub-contractor or a co-worker? Experts may have to be hired to determine if OSHA regulations were violated. Did the property owner or general contractor have a history of safety violations and/or warnings? 
Only an experienced construction site accident attorney can navigate through these difficult avenues to recover for you the maximum compensation to which you are entitled. 
Some common injuries to workers at construction sites include broken bones, traumatic brain injuries and back/neck/knee/ankle injuries. Damages to which you may be entitled include bodily injury, pain and suffering, disability, loss of enjoyment of life, lost wages, mental distress, and unpaid medical bills.
If you have been the victim of a construction site accident, contact Schiller, Pittenger & Galvin, P.C., at our Scotch Plains office at 908-490-0444 or online for a free consultation with an experienced New Jersey construction site accidents attorney. There is no attorneys' fee charged to you unless we are successful in obtaining a recovery on your behalf.